The 2018 FolioCollaborative Summer Institute
Gather, Converse, Connect, Grow!
Sunday, June 24 – Tuesday, June 26, 2018
Lansdowne Resort
Leesburg, Virginia
The Folio Summer Institute is an opportunity to share ideas and leave with new ones. This once-a-year assembly of leaders and teams from our member schools offers everyone a chance to strengthen the Collaborative by teaching and learning from one another. We are looking forward to seeing our experienced members and welcoming our new ones!
Registration Information
Early Bird Registration (ends April 6): $775/person, Group* $705/person
Standard Registration (ends May 25): $900/person, Group* $830/person


Registration includes:
All Conference Materials

Breakfast on Monday and Tuesday 

Lunch on Sunday, Monday, and Tuesday

Cocktail Reception on Sunday Evening

Dinner on Sunday and Monday Evening
*3 or more people from one Folio Member School. All registrations must be made at the same time and submitted together with one payment.
**Please note that registration for the Summer Institute is open only to individuals from schools who are members of FolioCollaborative.**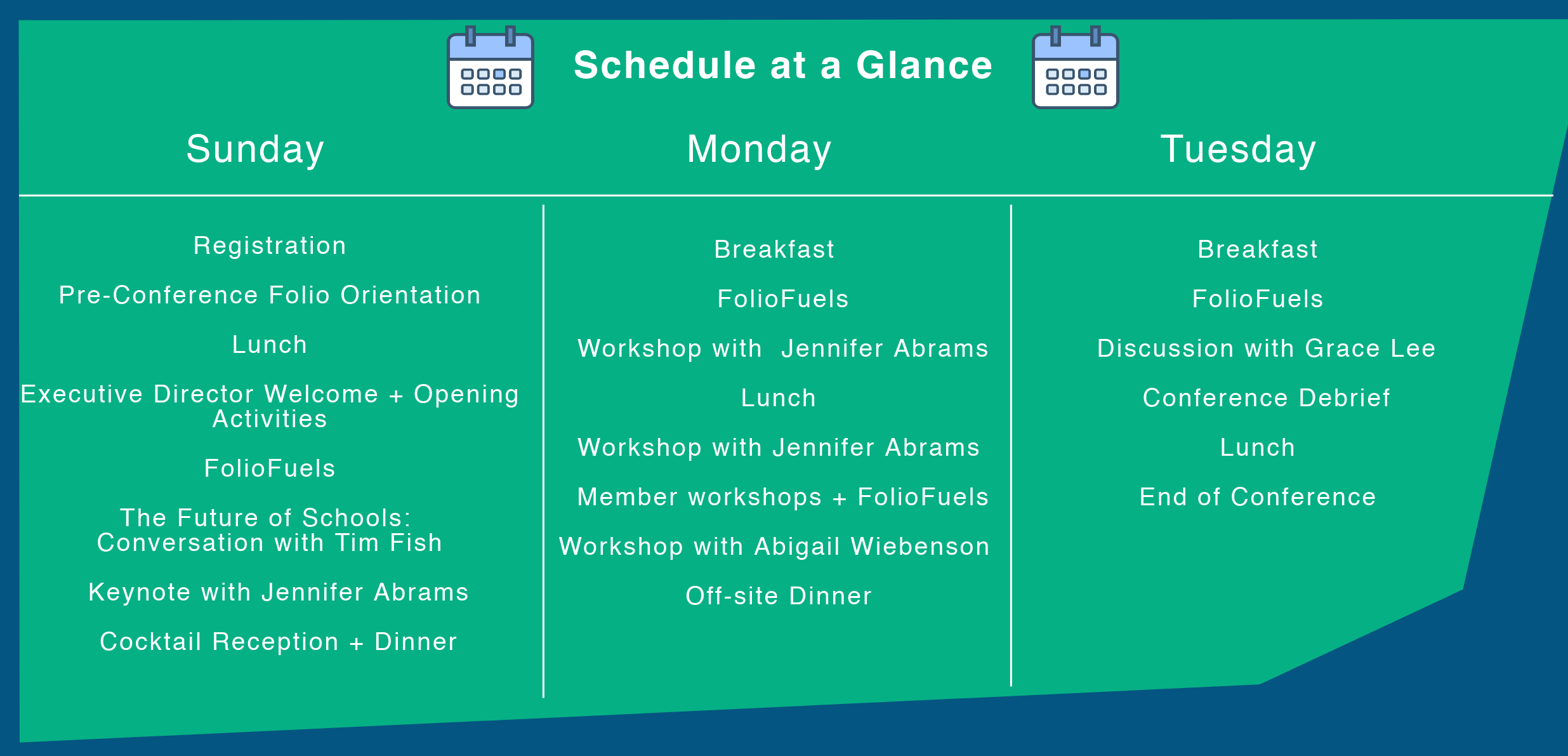 CHECK BACK TO SEE UPDATES TO THE FULL PROGRAM!

 More about Jennifer's work can be found at her website, www.jenniferabrams.com, and she can also be found on Twitter @jenniferabrams.
Featured Speakers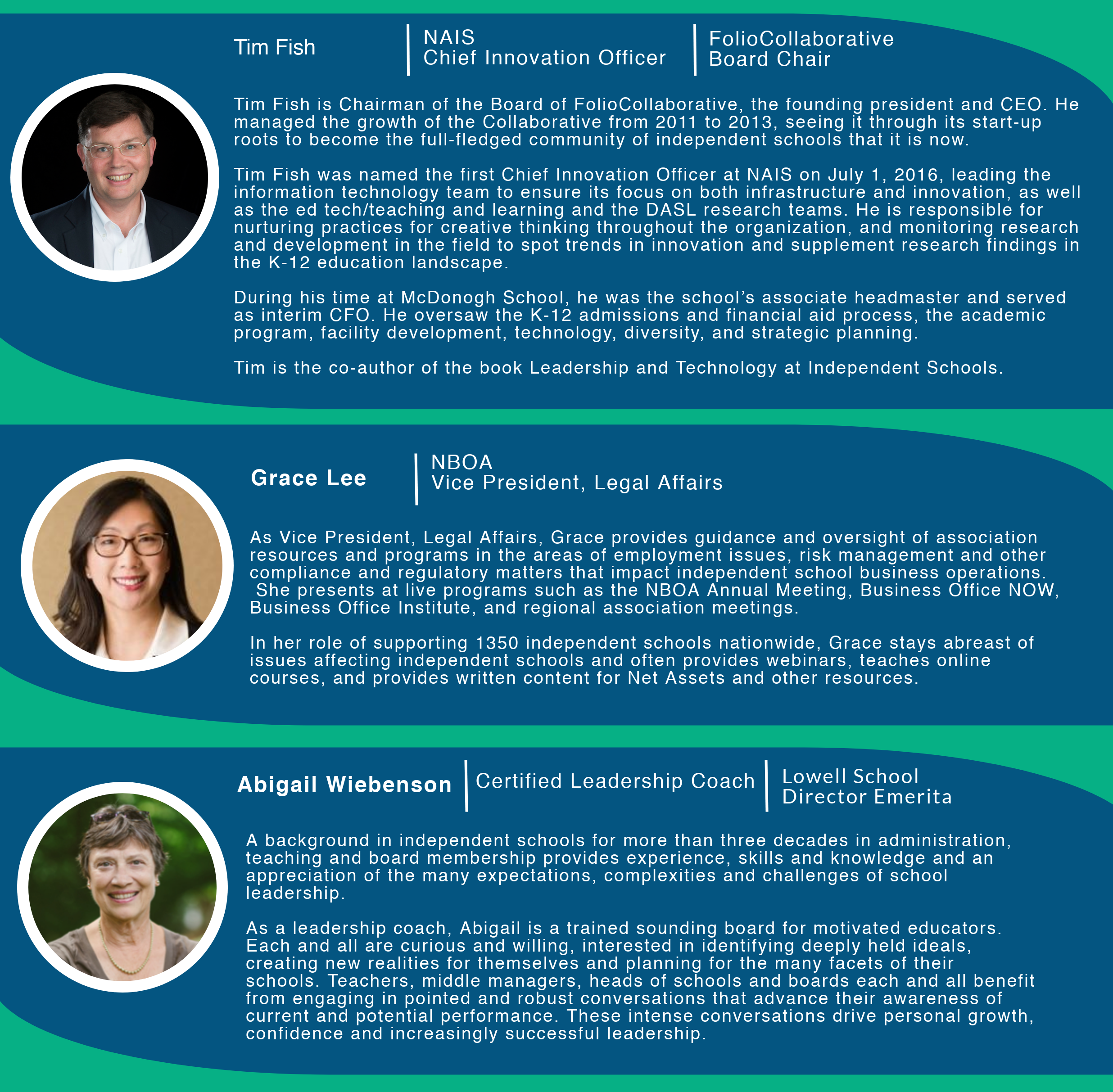 Call for Proposals!
What's your Folio Story? Can you tell it in 5 minutes? Or, do you have an idea for a 1-hour workshop?
If so, we are looking for you. All schools benefit when members share their user experiences, and according to feedback from previous years, these presentations are a Summer Institute highlight.
This year, we are seeking two types of proposals at The Summer Institute. One is a quick and engaging 5-minute presentation highlighting your school's unique application of Folio, or a best practice related to faculty growth and evaluation. If you have an idea for a longer workshop, we are excited to provide that opportunity this year. Workshop facilitators will have an opportunity to engage other Folio members around a unique application of Folio or a pivotal faculty growth experience with members of the Collaborative. You may propose more than one session, but please submit separate online applications for each. You can submit your proposal by clicking here.
Audience: The 2018 Folio Summer Institute audience includes heads of school, administrators, faculty, and staff. Attendees come from Folio schools that serve preschool through 12th grade/PG students.
Deadline for Submission: April 13, 2018.
Travel and Hotel Information
Hotel
A discounted room block is available for the 2018 Summer Institute attendees at the Lansdowne Resort. Discounted rates of $169 + tax/night for single rooms and $232 + tax/night for double occupancy room shares will be available for attendees (starting a day before the conference), June 23-26, 2018. To qualify for the discounted rate, rooms must be reserved by May 25, 2018.
Hotel reservations can be made online by clicking here.
Parking
Free self-parking is available on-site.
Area Airports
Dulles International Airport (13 miles to hotel)
Transportation to and from Dulles International Airport
Lansdowne Resort provides a paid shuttle service for arriving and departing flights at Dulles International Airport (IAD). The shuttle requires a $35.00 fee PER PERSON each way. The airport shuttle operates from 6:00 a.m. until midnight. Departures from Lansdowne Resort to Dulles Airport will leave every half hour starting at 6:00 a.m. and ending at 11:00 p.m. Departures from the Dulles Airport to Lansdowne Resort will leave every half hour starting at 6:30am and ending at 11:30pm. Reservations MUST be made in advance and can be made when you reserve your hotel room.
Attire
No need to wear your best suit or cocktail dress – we want you to be comfortable! Summer business casual is all you need for the Institute.
Social Media
Don't forget to use the hashtag #foliosi18 when tweeting about your time at the Institute! Follow Folio on Twitter: @foliocollab. We will be live-tweeting throughout the whole conference!
Attendee Perspectives
"Each time I attend the Folio Summer Institute, I come away with new ideas and excitement about the year ahead and using Folio even more effectively. I've made some wonderful connections and deeply appreciate this community of committed educators."
Alice Moore
Director of Lower School
Katherine Delmar Burke School
"Summer Institute 2017 was the third I've attended, and by far the best yet. The networking opportunities with other schools provided great Administrative contacts, and the key sessions on Mindfulness and providing effective feedback had takeaways useful for our entire school.
Thanks very much for an action packed 2 days of fun and learning."
Bill Palamar
Director of Human Resources
Ashbury College
"This professional development opportunity gives me a refresh on coaching and the practices that support my work in this area. I have attended for two years now and leave with a rich understanding and lots of take away activities that I can use in school start up with my team – Thank You!"
Kelly Harris
Dean of Academics and Student Support
Winchendon School
"The Institute was easily the best PD I have done. Most of the people attending had supervisory roles similar to mine which made sharing experiences valuable. The institute staff was top notch. The sessions touched on many of the challenges we face as supervisors and managers at schools, while also bringing in surprising no-school folks (Kate Sheppard!) who gave very specific skills and tools for me to use next week at school. I am looking forward to next summer already!"
Amy Woodson
Head of Lower School
University School of Nashville
Please contact outreach@foliocollaborative.org with any questions.